The Goodness of God
Songs in Waiting:
Spiritual Reflections on Christ's Birth
Chapter Three
By Paul-Gordon Chandler
Used with permission from Morehouse Publishing.
What was this message that the angels were bringing from God all about? "Glory to God in the highest!" they sing. The word "glory" in Hebrew comes from a root word that means "weighty," indicating that their message was of tremendous importance. 
"Glory" was a word used by the Jews at that time as an attempt to describe the very nature of God. Throughout the Scriptures "glory" largely refers to the "display of God's character," implying a disclosure by God of who God is: an expression of God's active presence.

Therefore, when the angels sing the Gloria, they are saying that Christ's birth is ultimately about revealing God's character, demonstrating the very heart of the Divine. The angels sing, "Glory to God in the highest heaven, and on earth peace among those whom he favors!" (NRSV). Other translations read "peace, goodwill to all," or as William Barclay so beautifully paraphrased, "peace to those whose welfare he ever seeks." The angels are singing that Christ's birth is fundamentally about the goodwill of God, meaning divine pleasure—God's favor toward us, God's grace among us.
Jesus embodied a divine affirmation: an affirmation that God embraces us all. The core message of Christmas, of Christ's birth, what we call the Incarnation, is that God is all about being for us. This affirmation stands against a commonly held view still today that God is a God of punishment and reprimand, a God who looks down more in anger and displeasure than in love.
And it must be said that there are many passages in the Hebrew Scriptures that would seem to uphold such a mistaken view of God, for the experience of suffering by the Jewish people often led them to believe that God was punishing them for their sins. Yet in the same Scriptures there are also many moments when the loving nature of God was glimpsed and understood.
When Moses, standing on Mount Sinai in Egypt, asked to see God's "glory," for example, the Lord replied, "I will cause all my goodness to pass in front of you" (Exodus 33:19). In other words, "the glory of God," meaning the "character of God," is fundamentally total goodness: God's deepest desire is goodwill toward us, his creation.
Referring to all this, C.S. Lewis writes in his sermon The Weight of Glory that we are "half-hearted creatures" who do not realize that "infinite joy" is being offered to us. We are like a "child who wants to go on making mud pies in a slum because he cannot imagine what is meant by the offer of a holiday at the sea. We are far too easily pleased." Lewis continues that the "promise of glory" is the incredible promise that we "shall find approval, shall please God. . . .To be loved by God, not merely pitied, but delighted in as an artist delights in his work . . .—it seems impossible, a weight or burden of glory which our thoughts can hardly sustain. But so it is."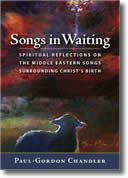 From Songs in Waiting: Spiritual Reflections on Christ's Birth by Paul-Gordon Chandler. Copyright ©  2009 by Paul-Gordon Chandler. Used with permission from Morehouse Publishing, an imprint of Church Publishing Inc. 
Help explorefaith when you purchase Songs in Waiting or any other item from Church Publishing, Inc., our Partner in Ministry.
Also available at amazon.com.