Still Here: Embracing Aging, Changing and Dying
by Ram Dass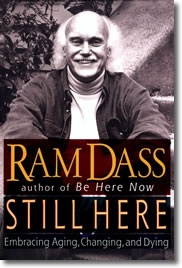 Published before Paths to God: Living the Bhagavad Gita, Still Here is intended to give comfort and direction to people entering their later years of life. Written in a conversational style, the book draws special power from the fact that its once hale and incredibly active author suffered a crippling stroke just two and half years before he wrote it.
While Paths to God suffers slightly for being a book about an esoteric topic written by a layman, the topic of aging seems perfectly suited to the substance and tenor of Ram Dass's wisdom. He begins with a description of the sad way in which our culture deals with aging, which he believes to be one of our last taboos. He writes, "The images our culture generates are designed to make you feel that aging is a kind of failure; that somehow God made a big mistake." According to Ram Dass, the sense of failure is felt on both the societal and personal levels. As a society, we've lost our appreciation for wisdom, perspective, and the other gifts that elders bring to the table. As individuals, the elders in our society too often cling to the hurts and regrets of their past and see no future for themselves. Ram Dass believes that "it is futile to try to change the outside world without beginning with ourselves."
The following chapters delve into Ram Dass's teachings on consciousness, soul, and emancipation (redemption), and how these concepts shed light of the process of aging. While much of the material can also be found in Paths to God, these ideas in Still Here are presented in a more relaxed and tranquil manner. The crux of Ram Dass's philosophy of life lies in his belief that the ego is just one part (a small part) of our entire Self. Through force of habit and the attractiveness of the material world, most of us, however, come to see our egos as the whole story. Ram Dass teaches that through meditation, devotion to a spiritual guide or guru, and other spiritual practices, we can begin to detach ourselves from our egos and lead lives of greater grace, ease, and affability.
In the preface to Still Here, Ram Dass tells of the trouble he first had in figuring out how to end his book. He writes, "I'd been working on the manuscript for the past eighteen months...[yet] I wondered why what I'd written seemed so incomplete, not quite grounded, rounded or whole." While lying on his bed, thinking about aging and how to end his book, his phone started to ring. As the phone rang, he felt that his leg had fallen asleep—he was having a stroke. In the last chapter, called "Stroke Yoga," Ram Dass tells us that his stroke gave him the book ending he was seeking. "It gave me an encounter with the kind of physical suffering that often accompanies aging; it gave me a brush with death; it gave me the first-hand experiences I was lacking back then."
Chronic pain, loss of mobility, loss of livelihood, dependency, sleep apnea, aphasia, and closeness to death—these are the things we fear about getting old and Ram Dass is now experiencing all of these difficulties every day. He tells us that the stroke has divided his life in two. The active person, the traveler, the lecturer, the writer, the hospice-care giver—that person is no longer the same person who suffered a stroke. Despite all that, the stroke seems to have been Ram Dass's greatest teacher. It has brought him closer to his body than he's ever been; it's made the imagery subtler in his writing; it's taught him to love being home among friends and caregivers; it's made him laugh about wheelchairs; and most of all it's brought him closer than ever to his beloved guru. He writes, "The stroke gave me the chance to appreciate in a much deeper way the preciousness of the love that surrounds me."
Of all the forms of yoga Ram Dass teaches us about in Paths to God and Still Here, I find that stroke yoga is the most profound of all. With all talk of the growing population of elders in America, aging yoga and stroke yoga seem to cut to the heart of what it means to be a spiritual person in the 21 st century. As Ram Dass tells us, pain is an incredible teacher and, like it or not, these are painful times. With Still Here, Ram Dass has given us a wonderful lesson on the meaning of pain and how we can embrace it so as to be transformed, and not destroyed.


Copyright ©2005 John Tintera


Help explorefaith.org. Purchase a copy of STILL HERE by following this link to amazon.com.