When We're Afraid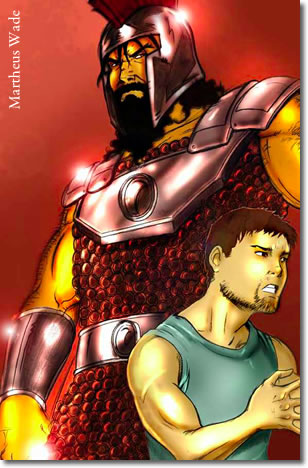 And there came out from the camp of the Philistines a champion named Goliath, of Gath, whose height was six cubits and a span. He had a helmet of bronze on his head, and he was armed with a coat of mail; the weight of the coat was five thousand shekels of bronze.—1 Samuel 17:4-5
Although our adversaries do not come in the form of 9-foot-tall giants, they are often just as terrifying. Financial problems, family discord, illness, isolation, problems at work, or perhaps no work at all, we all have battles we fight with others, with our situation or perhaps with ourselves. They are real hardships and oftentimes are very serious. They affect our health, our relationships and our ability to cope with smaller issues as they arise.
Yet as we prepare to meet the Goliath's in our lives, do we stop and consult with our divine ally? Do we lay our plans before God and ask that God's will define our own?
So often we listen to the voice of our fear, which can paralyze our action or push us headlong into confrontations that might have been avoided. There is another voice that speaks of a different way.  When we are beset with fears, we can choose to withdraw from pressures long enough to center ourselves in God's loving presence. We can depend on God to help us recognize healthy alternatives that, while blinded by fear, we might never have seen.
There are times, O Lord, when I feel completely helpless to alter the circumstances in my life. I am powerless to turn around a bad economy, or ensure a favorable report from my doctor, or guarantee my spouse will always love me, or make sure I am never in an accident. When I sense that I have no control over what is occurring in my life, my energy lags and fear and frustration begin to overwhelm me. Let your spirit of peace spill freely over me until I recover my inner calm. Help me remember that it is not control that gives me peace, but knowing that I am loved and beloved by the heart of heaven.

—A Prayer for When You're Feeling Powerless and Afraid
From Prayers for Living

Fear not. Go forth into life and fear not its vagaries, its struggles.  Fear not the doubt that besieges all faith. Fear not the unknown. Go forth and fear not. But how? By always reminding ourselves that we are created in God's image, that we are endowed with intellect and free will, compassion and responsibility, conscience, and creativity. That what we do matters. That our life, and all life, is infinitely precious. Go forth and fear not.
—Naomi Rosenblatt
Wrestling with Angels
So do not fear, for I am with you; do not be dismayed, for I am your God. I will strengthen you and help you; I will uphold you with my righteous right hand. 
 —Isaiah 41:10
There's so much in life we simply don't do because we're afraid. Afraid of what may happen to us. Afraid things may not turn out as expected. Afraid of what people will think of us. Afraid we will fail. Afraid we will be left raw and ragged, forgotten and alone to tend our aching wounds. Even when it feels like a call from heaven to take action, fear can cause us to hang back, relying on the safety of sameness rather than venturing into risky holiness.    —Renee Miller

When we belong to God, we are saved in hope—because nothing will ever separate us from God. We are never alone. We need not be afraid. 
—John Mulder
excerpted from Saved by Hope
But it is impossible to go through life without trust; that is to be imprisoned in the worst cell of all, oneself.
— Graham Greene 
The Ministry of Fear: An Entertainment
Courage is fear that has said its prayers and decided to go forward anyway.
— Joyce Meyer  
I Dare You: Embrace Life with Passion
Our fear, our anger are not our enemies; they are us. We have to treat our fear, our anger in a most non-violent way, the most non-dualistic way, like we are treating our own baby. 
—Thich Nhat Hahn
excerpted from Mindfulness of Self, Mindfulness of Others

So we say with confidence, "The Lord is my helper; I will not be afraid. What can man do to me? —Hebrews 13:6  
The wise man in the storm prays God not for safety from danger but for deliverance from fear.     — Ralph Waldo Emerson
He who excels as a soldier is the one who is not warlike; he who fights the best fight is not wrathful; he who best conquers an enemy is not quarrelsome; he who best employs people is obedient himself. This is the virtue of not-quarreling, this is the secret of bringing out other men's ability, this is complying with heaven.      —Lao Tzu

Gratitude looks to the Past and love to the Present; fear, avarice, lust, and ambition look ahead.
— C.S. Lewis  
The Screwtape Letters

The LORD is my shepherd, I shall not be in want. He makes me lie down in green pastures, he leads me beside quiet waters,  he restores my soul. He guides me in paths of righteousness for his name's sake. Even though I walk through the valley of the shadow of death, I will fear no evil, for you are with me; your rod and your staff, they comfort me. You prepare a table before me in the presence of my enemies. You anoint my head with oil; my cup overflows.  Surely goodness and love will follow me all the days of my life, and I will dwell in the house of the LORD forever.    —Psalm 23