Poet Luci Shaw
On discovering God's presence in poetry and the natural world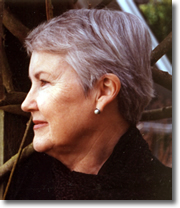 Explorefaith sat down recently with the poet, translator, and popular Christian speaker, Luci Shaw. Her background is varied. Luci was born in England, but has lived most of her adult life in the United States and Canada. She co-founded a publishing company a quarter century ago, has published many volumes of award-winning poetry, and is an advocate of art and imagination of all kinds that may assist people on their spiritual paths. She has been the Writer in Residence at Regent College in Vancouver, British Columbia since 1988. You can learn more about Luci at
www.lucishaw.com
.
EXPLOREFAITH: You clearly have a passion for words. Where did that passion come from?
LUCI SHAW: As a child my parents read to me and my brother from books that were the classics of literary fiction and essay. Just by listening to superb writing we learned something of how language works, its rhythms and its ability to transport us into new realms of imagination. Though my father was a restless man, and our family traveled the world a great deal in our early years, I had a rigorous British education (England, Australia, Canada) in private schools, with teachers who were in love with the English language. My father, a preacher and not a poet, nevertheless loved my poetry and encouraged my writing by his enthusiasm.

I am grateful for experience in language, for a background from high school and college in Latin and Greek that enlarges my understanding of meanings. The etymology of words is endlessly fascinating for me.
At Wheaton College I took every one of the English Lit courses offered by Clyde Kilby, chair of the department, who fired all of us English majors with enormous enthusiasm for language and the power of literature. After graduation, Dr. Kilby continued to be a close and valued friend and fine critic, and the honorary grandfather in our family. My youngest daughter is named after him. I believe it is because of his vigorous advocacy that I am a writer today.
EXPLOREFAITH: I know that you are very involved in your local church. However, tell us, if you don't mind, about your own personal spiritual practices. What do you do daily, weekly?
LUCI SHAW: I'm far from being a disciplined Christian! My faith and my church are at the center of my life, and I meet with others for prayer on a weekly basis, but I am not good at keeping a regular spiritual rule of life. I seem to live and write out of enthusiasm rather than discipline. My daily journal is full of reflections and questions, prayers and doubts and epiphanies and cries for help. That is where my spiritual life is shaped, that, and lying in bed in the morning thinking and wondering. My happiest moments, which affirm that God's Spirit is alive in me, are when a poem is coming and moving me into a different dimension. Often this happens in the wild, part of my environment here in the Pacific Northwest.
A few months ago I heard Paul Mariani say to a group, quite off-handedly "Cultivating your art—that's your spiritual discipline." I affirm that. It was a thunderbolt to shatter my guilt and failure as a "committed Christian" who failed to have a daily "quiet time." If writing is my calling, then attending to it is part of my obedience to God, who is author of both gift and calling.
As a young person, my conservative church background force-fed me with large doses of biblical knowledge that I've largely retained; I'm probably more biblically literate than most evangelicals I know today. My life has always been suffused in Scripture, both its facts and its truth, so it's not that the Bible is unstudied or unimportant to me, and I live and write in the light of its teaching and story. But regular Bible study has become less fruitful for me, though I get excited when I find new treasures in some of the contemporary translations.
Then there are the simple services I give in the context of worship at church—lay reading, chalice bearing at the altar, the offering of healing prayer, and the bearing of eucharist to those who are stuck at home because of illness or old age. These are means of grace to me, and I trust, to others.
EXPLOREFAITH: Your work seems to reflect your spiritual life. What I mean is: It's clear that you have a profound connection to the sacred. Does that connection ever seem to come and go? When it goes, do you keep writing? Do you keep worshiping?
LUCI SHAW: I'm given to some ups and downs as a poet influenced by events and relationships beyond my control. There are some times of spiritual and artistic drought when all I can do is hang on and hope for a return of vision and freedom. That's what faith is for me, not giving up; trusting that I'm open enough to God to keep listening. In the past I've weathered seasons of profound doubt, which is when my community of Christians holds me, carries me along for a time. I have some long-time friends who are kindred spirits and we, in turn, sometimes have to rescue each other.
Poetry comes in bursts, with lacunae in between periods of fruitfulness. Other writing is often pressured by deadlines, and I'm used to pushing through the barriers of lethargy or busyness in order to get the work done.
EXPLOREFAITH: Luci, do you feel specially called to your work?
LUCI SHAW: I'd define calling as an inner impulse too strong to be denied. I do recognize that at the core of all that I am and do is that observant, attentive spirit that is impelled to respond to the connections I see in whatever language is available to me. I am witness to a theological link between Creator and myself as a created being in the image of that Creator, called to reverse entropy by finding order in chaos, and extracting meaning from disarray.
EXPLOREFAITH: Your father was an author of spiritual books and a popular speaker at the Keswick Conference in England. But as you say, you credit your old professor at Wheaton College, Clyde Kilby, with truly making you a writer.
LUCI SHAW: Yes, Dr. Kilby helped me take a developing gift and allow it freedom to expand and flourish in a Christian culture that often regarded poetry (and fiction) as peripheral and even a distraction from the mandate to save souls. After Clyde retired to Mississippi we were often in touch by phone. He was not himself a poet, but a perceptive critic who would mark up my early drafts and give me the kind of feedback poets die for! The day before he died of a heart attack we talked and his last words to me were, "You are the real thing, a true poet, and I love you." Those words still ring in my ears as a reaffirmation.
EXPLOREFAITH: In your most recent book of poems, What the Light Was Like, you write poignantly about the outdoors, about hiking. I particularly like these lines from the poem, "Tenting, Burr Trail, Long Canyon, Escalante"…
I am ready to stay in this one place, sleep
dream, breathe the grace of wind and earth that is
never too much, and more than I will ever need.
How do you find God in the natural world? Do you go looking? Is it obvious?
LUCI SHAW: God in the natural world seems so entirely "natural," so intuitively central to the universe, I marvel that so many seem oblivious to it. The connections press themselves into my consciousness without much effort on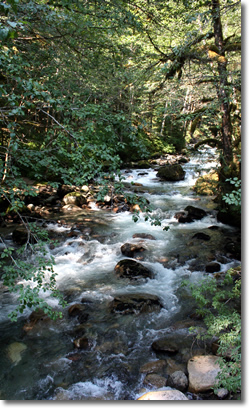 my part. I credit some of this awareness to my early experiences of nature in summer in Canada. Our family spent many summers on the lakes in Muskoka, Ontario, where my brother and I learned to sail. Tent-camping in summer camps I was deeply marked by the beauty of woods and waters. Canoe trips and wilderness hikes left indelible impressions on me. I remember floating in a canoe under overhanging trees, next to moss-covered rocks and stumps, feeling an ineffable sense of joy and peace and relationship with the muted colors and textures of the woods. Australia, with an entirely different environment of flora and fauna equally imprinted me. To this day eucalyptus trees have a magical effect on me.
And now, in Washington State, surrounded by snow-covered mountains, forests, ocean, islands, this environment seems as close to heaven as I'm likely to find in this life! My study window overlooks a ravine with a creek that is a torrent during the winter rains. I've said, more than once, "I write best to the sound of running water."
EXPLOREFAITH: Which twentieth century writer has influenced your writing most of all?
LUCI SHAW: If I had to pick just one, I'd say Mary Oliver, who has always been a keen lover and observer of the natural world and has recently come to Christian faith after the death of her partner Molly Malone Cook. She is an ultimate crafter of words that bring what she sees with great love into view for her readers. Jane Kenyon, late wife of Donald Hall, is another who saw the inherent beauty and meaning of nature. As do John Leax and Paul Willis. In their writing they produce a kind of hermeneutic of the world.
EXPLOREFAITH: Are there any young writers, perhaps under the age of 40, who give you optimism about the literature of the future?
LUCI SHAW: There are so many good young poets writing. The field is getting quite crowded! As poetry editor of Radix magazine I see some fine work. I can't always guess a poet's age by such submissions, but I recommend the work of Malcolm Guite, an English poet and Anglican priest who plumbs the depths of poetry and religious faith like a true metaphysical.
EXPLOREFAITH: What are you working on now?
LUCI SHAW: I have a couple of book ideas simmering. One is to be a collection of essays by people in public life who have achieved success. I'm looking for thoughtful responses to the idea that ambition can be both positive and negative, either healthy or toxic. Jeanne Murray Walker and I would edit the contributions. I'm also developing a manuscript with the working title The Thumbprint on the Clay, that explores the imprint of God as Creator on the universe, human beings, and as a result the imprint we can make on our culture and on individuals around us.
And of course, the poems keep coming, often at inconvenient times when other urgencies are pressing in. But a poem must always be attended to. If it is ignored it dies a sad little death. And it's a bit of an insult to the Spirit who initiated it in a human mind.
EXPLOREFAITH: Do you recommend any spiritual practices to young would-be writers or artists?
LUCI SHAW: Keeping a personal, reflective journal, like a collection jar for questions, answers, insights, seed ideas, phrases, interesting words, evidences of soul growth, all capture and intensify what is going on in our spiritual and emotional lives. An essay of mine, submitted to an anthology A Syllable of Water (reflections from writers about multiple aspects of the writing life to be published by Paraclete Press), fleshes out some of these ideas.
Another discipline is the reading of imaginative work that sparks the imagination and the spirit.
Photograph of Luci Shaw Copyright ©2008 Kurt Scherer. Photograph of Luci's stream Copyright ©2008 Luci Shaw.

Copyright ©2008 explorefaith.org