A Few Good Books That Will Change Your Life
Ancient and Modern "Must-Reads"
selected by members of explorefaith's editorial board
To purchase any of the books below, follow the links to amazon.com.
Recommendations from Jon M. Sweeney



The Little Flowers of Saint Francis
Don't be fooled by the title into thinking that this book is fluffy or saccharine. It is freshness of Franciscan spirituality for the ages. Read about St. Francis

Selected Poems
by R. S. Thomas
This Welsh clergyman was one of the most important poets of the 20th century, but he's too little known in this country.
Fear and Trembling
by Søren Kierkegaard
The easiest reading of Kierkegaard's many books. Strikes to the heart of what faith is, and means.
Ludwig Wittgenstein: A Memoir
by Norman Malcolm
Still the best little introduction to the philosopher who has had more
impact on religious thought than any other since Kierkegaard.
Autobiography
by St. Teresa of Avila
She's actually a saint that I'd want to have over for dinner!
Read about Teresa
---
Recommendations from Michael Battle

"Not in any particular order, these books all share the quality of 'epiphany'—that is, helping to see God in unexpected ways."

The Life of Pi by Yann Martel
The Old Man and the Sea by Ernest Hemingway
Watership Down by Richard Adams
Finite and Infinite by Austin Marsden Farrer
A Community of Character by Stanley Hauerwaus

---
Recommendations from Phyllis Tickle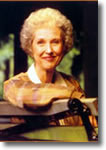 "The books that I think of as essential spiritual reading tend to be ones that informed my young life so completely that I see them through the lens of 'me' (then and thereafter), rather than in terms of their current or abiding worth. Some of them, however, I am very sure of, regardless of the perspective."
I know that, above all else and save for Holy Writ itself, it is the poetry of T. S. Eliot that is essential. Without it, I would not be.
I likewise owe a huge debt to Rumer Godden's In This House of Brede, though I do realize it has a certain antiqueness that may lessen its impact on today's readers.
Thomas Merton's The Seven-Storey Mountain is indispensable. Read about Thomas Merton

The Soul's Sincere Desire by Glenn Clark saved my young soul and sustained my maturing one for lots of years. I still pick it up from time to time and find refreshment there, though it too bears evidence of the years and times it came out of.
Augustine's Confessions and/or Benedict's Rule, disparate as they may at first seem, still constitute two necessary pieces to a larger whole informing the spiritual life.
Talking to God: Portraits of A World at Prayer edited by John Gattuso and published by Stone Creek packs the spiritual punch of at least two or three of the above and has the added advantage of speaking in pictures as much as words. The unfortunate thing is that I wrote the Foreword, which makes mine look like less than an objective judgment, but I'll take that risk and say that this one is so breath-taking it would revive even the most moribund spirit.
---
Recommendations from Frederick Borsch

The Psalms For thanksgiving, longing, lamentation, pleas for justice (see Psalms 23, 32, 33, 34,62, 63, 69, 102, 103, 104,116 and more, perhaps with Walter Brueggemann's Spirituality of the Psalms, where he wrote, "The Book of Psalms provides the most reliable, pastoral, and liturgical resource given us in the biblical tradition.. . . profoundly subversive of the dominant culture, which wants to deny and cover over the darkness we are called to enter."
The Triple Victory by Austin Farrer. A classic meditation by a master pastor and theologian. "God has laid bare to us his very heart."
The Cloud of Unknowing. A companionable 14th Century exploration of growth in the life of the spirit. "For it is not what you are or have been that God looks upon with the all-merciful eyes, but what you would be." "Only to our intellect is God incomprehensible, not to our love."
Preferring Christ: A Devotional Commentary on the Rule of St. Benedict by Norvene Vest. "Nothing is more important for human beings than learning to live in harmony with God's will, which is to say God's love." In the Foreword Robert Hale OSB Cam. writes, "Many people are yearning for an interior life deeply rooted in God, humanly balanced, and substantially founded in the Christian heritage."
George Herbert's Poems: "Affliction (1)", "The Collar," "Love (III)," "Denial," "Prayer," "Artillerie," "Agonie" and more. R.S. Thomas wrote of Herbert: "Yeats saw that out of his quarrel with others man makes rhetoric, but out of his quarrel with himself poetry…what Herbert had was an argument, not with others, nor with himself primarily, but with God; and God always won."
Markings by Dag Hammarskjold. The record of the spiritual longings and ups and downs of a worldly, lonely and, at times, mystical man. "In the faith which is 'God's marriage to the soul' you are one in God and God is wholly in you, just as for you, He is wholly in all you meet. With this faith in prayer you descend into yourself to meet the Other."
Becoming Christ:Transformation through Contemplation by Brian C. Taylor. Gentle encouragement in the patient practice of contemplative prayer. "It is becoming clearer and clearer to me over the years that at the deepest level, we cannot change ourselves; but we can be changed."
Forgiven and Forgiving by L. William Countryman. Forgiveness and forgiving are God's best gifts to us "By forgiving and being forgiven we bring that life (of the age to come) with us into the midst of the world." Read an excerpt
The Return of the Prodigal Son: A Story of Homecoming by Henri J. M. Nouwen The parable as seen through Nouwen's reflections on Rembrandt's painting, giving voice to the painful honesty and humility of Henri Nouwen's coming home: "As I look on my own aging hands, I know that they have been given to me to stretch out toward all who suffer, to rest upon the shoulders of all who come, and to offer the blessing that emerges from the immensity of God's love."
Although it is long out-of-print my Coming Together in the Spirit: A New Approach to Christian Community—with a Study Guide offers guidance for a diverse, shared and ecumenical spirituality:
However difficult it is to find words or images to describe the sense of God's presence, one cannot help but remark on the similarities....While these mystics and persons of prayers speak in different tongues, their voices have an echoing timbre.