How Can I Let Go if I Don't Know I'm Holding On?
by Linda Douty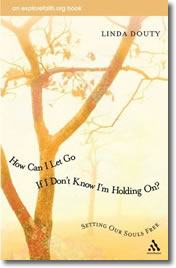 Trade Paperback, 128 pages
Published: 09/01/2005
Publisher: Morehouse Publishing
ISBN: 0-8192-2132-5
Price: $13.95

In How Can I Let Go if I Don't Know I'm Holding On? Linda Douty takes a close-up look at the letting-go struggles all of us face. Weaving together her own experiences and the stories of others, she offers specific strategies for letting go of all the things that keep us from a deeper relationship with God and with others. With practical suggestions, including updated versions of classic spiritual practices, as well as questions for study and reflection, readers will find in this book a rich resource for personal spiritual growth as well as for group study.

ABOUT THE AUTHOR
Linda Douty is a spiritual director who serves on the leadership team of the Academy of Spiritual Formation. A member of the United Methodist Church, she gives conferences and retreats and writes for a variety of religious publications, including Upper Room and Alive Now.
 



Help explorefaith.org when you purchase HOW CAN I LET GO... or any other item from Church Publishing, Inc., our Partner in Ministry.
Also available at amazon.com