Robert Benson on Praying with Words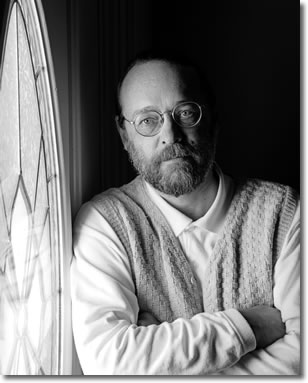 explorefaith caught up recently with the popular spiritual author Robert Benson. Robert has been writing books, leading retreats and workshops, and sharing his experiences of faith for more than 25 years. He's a passionate guy about many things, and we explored several of them in our interview. But most of all, we wanted to talk with him about prayer—and even more specifically—about praying with words.
explorefaith:  It's springtime. Now be honest: Do the crocuses and tulips get you thinking about the beauty of new life, or about … baseball?
Robert Benson: A little bit of both, truth be told, though for baseball fans there is new life for everyone's team this time of year. It is really the longer days, the added daylight that
makes me feel that I am alive again.
explorefaith:  In all seriousness, I know that prayer is more important to you than baseball. And prayer is what we wanted most to talk with you about. Is there a good way to rekindle a prayer life specifically at this time of year—in springtime?
Robert Benson:  It is Anne Lamott who says there are two prayers — "Help me, help me, help me" and "Thank you, thank you, thank you." This is one of those "thank you" times of year — Easter, spring, sunshine, baseball, flowers, warm days. Gratitude is very often the best way to rekindle prayer, or at least it is for me, and it is hard to be ungrateful this time of year.
explorefaith:  You wrote a book last year titled In Constant Prayer. That seems like a pretty ominous goal. Is constant prayer really possible, or even desirable?
Robert Benson:  The title is another referencing of Paul's call for us to pray without ceasing. That call is a collective call as well as an individual call, and the way the Church has responded to that call, from its earliest days, is by saying the daily office.*  The book is about the office — its call and its claim on our lives, and some of the obstacles and joys that come with participating in this great river of prayer that has been prayed without ceasing through the centuries. It seems less ominous when it's collective and not personal, or at least I hope so. I try not to scare people when I write.
explorefaith: In In Constant Prayer, my favorite chapter is called "Praying Alone Together." Please tell our readers briefly what that means.
Robert Benson: When I am saying my office, I know that at certain times — an hour before or later perhaps — I have friends around the country, around the world even who are saying it at the same time I am, depending on the time zone. So it means that I am never really alone when I pray the office, even when there is no one else in the room. It also means that some days my friends — known and unknown — are saying the prayers for me when I cannot or do not. And sometimes I am returning the favor. Together, we are trying to insure that the ongoing praise and worship of the One Who made us is, in fact, ongoing.
explorefaith:  What are some other ways that people can learn to pray with words—in contrast to praying with the body or praying with the mind?
Robert Benson:  Certainly praying the psalter in some sort of a cycle is one of the ways. We often fail to see the psalms as prayers, prayers that have been prayed by the faithful of Yahweh for six thousand years or so. Journaling is another way; it is a good way to be in
conversation with the One Who made us. Taking a collect from a prayerbook — the collect for Easter, for example — and repeating it from memory two or three times a day for the entire season is something I suggest to people. Or even writing your own collect — there is a shape and form to such things — a collect that reflects the particular shape and sound of your journey just now.
explorefaith:  But what do you do when the words seem to lose their meaning? Surely that happens even to you?
Robert Benson:  Of course it happens to me. I am a wordsmith and work with them all the time; it could even be true that words lose their meaning faster for me than they do for other folks. When it happens I try to remember that all of my time in prayer has not been glorious and so the fact that things are not so glorious now does not release me from my obligation to say my prayers. I also have other ways that I pray, as we all do — I pray with the work of my hands, I pray in silence, I write letters. I get tired of tulips and baseball from time to time too, but I am not giving up either of them.
explorefaith: You also sometimes talk about quieter ways of praying with words—combining simple phrases with prayerful intentions and sometimes simply with everyday activities. Many of our readers explored some of this kind of prayer in Barbara Brown Taylor's recent book An Altar in the World. But you speak of it, too, in places like your earlier book, Living Prayer. Can you give us some examples of how anyone might use words in everyday ways to raise up thoughts and intentions to God?
Robert Benson:  I try to remember that the words of a prayer are not really to call to God's attention the things that I profess to believe that God already knows. They are really to bring me to attention for what God may be saying to me. A line from a scripture or a collect repeated
throughout the day. The saying aloud of a concern that comes to mind for no obvious reason. All of these are ways to bring to attention to someplace or someone that I am to be the Christ this day.
explorefaith:   One of the reasons why we like your writing so much is that you're honest. You often write about the paradoxes of faith, the irreconcilable things. Do you see your own prayer life through that sort of lens: paradox?
Robert Benson:  I do. Any notion of my talking to and and being listened to, or listening for and hearing from, the Creator of the Universe is bound to be filled with paradox. Is God within or
without? Is Jesus with us or has Jesus gone ahead to prepare a place for us? Such questions go on and on in the life of faith. The paradoxes do not bother me — I am called to live a life of faith, not of certainty.
explorefaith:  Would you mind sharing a way of praying with us—perhaps something that you have implemented in your own life?  
Robert Benson:  Once, under the influence of the writings of Neil Douglas Klotz, an Aramaic scholar of note, I used some of what he taught about the way that language, the language Jesus used, allowed for words to have a wider range of meanings than words do in English. He used the Our Father as an example. Following his direction, so to speak, I have sort of written my own version and say it whenever I say the office. I grew up in a tradition where we rarely said the Our Father, and having this way of being engaged in it has meant a great deal to me. I can share it with you if you like…

Father in heaven, blessed be Your name:
May Your kingdom and Your spirit come upon us and cleanse us.
May Your will be done among us, as Your will is done by Your angels in heaven.
Give us this day, for it is our daily bread.
Forgive us our sins, teach us to forgive those who sin against us.
Do not lead us into trials and temptations, we pray,
and deliver us from the evil that is all around us.
The kingdoms of heaven and of earth,
and all the power and the glory and the honor are Yours,
now and forevermore.
Amen.
explorefaith:  Thank you. That's beautiful.  What a terrific exercise for anyone—to compose their own Our Father.
* Also known as the Divine Office, the Divine Hours, or the Liturgy of the Hours—the daily office is the several times a day that Christians have stopped to pray ever since the early church.