Practicing Reconciliation in a Violent World
an excerpt from the book
Now this bell tolling softly for another says to me, you must die. No one is an island, entire of itself; everyone is a piece of the continent, a part of the main… Anyone's death diminishes me because I am involved in humankind, and therefore never send to know for whom the bell tolls; it tolls for you. 1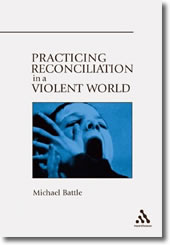 Christian faith was born in a conflicted world. Isn't it tempting to just resign ourselves to the idea that conflict is all there is and just get on with life?  In this book, however, I want to challenge you with a different question: Why reconciliation? Richard Mouw again helps me explain, using the contentious issues of sexual orientation in the church:
 

This is an important time for each of us to be honest about our sexual condition. We evangelicals have nothing to brag about in this area. It is not enough for us to tell those with whom we disagree strongly about sexual orientation questions how wrong we think they are. Nor is it very helpful for other folks to keep insisting that we can solve most of our theological problems in this area by focusing on a Jesus who cares deeply about a generic, unnuanced "inclusivity." If that is all we have to say to each other, there is no hope for the continuing unity of our denomination. 2 
Mouw's insight moves us away from the natural acceptance of perpetual conflict and into the pursuit of connecting worldviews that appear incommensurate. But this takes perpetual practice. The answer to why we need reconciliation goes deeper than our own self-interests, deeper even than what we individually settle upon as justice. We need reconciliation because without it we are unable to see God's intended reconciliation. To practice the presence of God requires the practice of reconciliation—whether we want to be reconciled or not. Herein was Jesus' earthly work: to show us this truth.
Jesus' fame had spread, according to Matthew (5:43–45), so much so that even though Jesus resided mostly in the Galilee region, deeply conflicted people were flocking to him from what is now known as Syria, Lebanon, Jordan, Jerusalem, Israel/Palestine, and even from what is now Iraq. The people who came to him were all victims of war, disease, politics, and religion. They heard a different message from Jesus than the standard "survival of the fittest" themes. Jesus gave them a new way of seeing: "You have heard that it was said, 'You shall love your neighbor and hate your enemy,' but I say to you, love your enemies and pray for those who persecute you" (Matthew 5:43–44).
Jesus knew the right lesson to teach, a lesson that continues to be difficult for us to learn. Jesus continues: "[I]f you love those who love you, what reward do you have?" (Matthew 5:46). Maybe this wasn't as rhetorical a question as we might imagine, because Jesus was preaching to people who came to learn ultimate solutions. Maybe some in the crowd answered his question, "What reward do you have?" by answering in the following manner: "Well, if we love ourselves, we could maintain own culture."
Others may have said, "If we love those who love us, we could maintain the purity of our own heritage." Still others may have said, "If we love those who it is natural for us to love, at least we could continue to speak our native tongue, Aramaic, instead of having it wiped out by oppressive cultures." "If we follow this strange teaching of loving our enemies," they concluded, "then we lose to our enemies and oppressors, the Roman Empire." I would imagine Jesus listened to them as the sun began to set.
Jesus' response was not hotheaded, idealistic, or apolitical. He heard their deep need. He responded: "Don't the tax collectors [one of the most despised persons of Jesus' days] love themselves?" Matthew, himself a tax collector, recording these events, especially wants us to hear this teaching of Jesus. Jesus continues, "If you only relate to each other according to who is kin to you by blood, how is that showing forth the fullness of the kingdom of heaven?" (Matthew 5:46–47).
Jesus then makes a very interesting parallel between loving your enemies and praying for those who persecute you and being children. To love our enemies does not involve putting flowers in your hair and listening to Bob Dylan. Loving your enemies isn't about weakness. To love our enemies is not some axiom only to be appreciated for its aesthetic value but disregarded in the real world. No, Jesus says that to love our enemies requires three actions. In Matthew 5:43–45, Jesus makes parallel the verbs to love (first), then to pray (second), and then to be children.
The point of Jesus' preaching to the people of Syria, Lebanon, Jordan, Iraq, to Jerusalem, Israel/Palestine, the United States, the United Kingdom—the meaning for all of us is: If you want to know that you are more than violent animals, you will have to behave as if prayer is more than talking to yourself—to pray is to love. Jesus' lesson for the first century, for our century, and for future centuries is that diverse peoples must learn to desire to pass beyond their individual understandings of reality and reorient themselves in the ways of God, who allows the sun to rise on the evil and the good; who sends the rain on the righteous and on the unrighteous. Jesus is teaching us a hard lesson:If we can love the other, those of other cultures, other nations, even other worldviews, we will open ourselves to the higher reality that we are all children of God.
Why reconciliation? The answer is simple: Because it makes us God's children—related to God. We are related to God when we learn to live in higher realities than violence and death. When Jesus said, "Be perfect as your heavenly Father is perfect" (Matthew 5:48), it means that our humanity lies in the perfection of children who are discovering their identities through relationships.
So, Jesus tells us to pray not with words, but by working through difficult relationships, like those with our enemies (Matthew 5:6–15). To learn to see an enemy as our sister or brother is the truest form of prayer, because we are being made into children of God. "As a father cares for his children, so does the Lord care for those who fear him" (Psalm 103:13). We become children of God when the reality of death cannot define us. Our prayer becomes:
 

"Deliver us, O Lord, from our impregnable, invulnerable selves, for in our safety, we learn to doubt your true power."
If we aren't careful, we may create God in our own image, and therefore only talk to ourselves and call it prayer….

1. My adaptation of John Donne, "Meditation 17"(1623-1624) from Devotions upon Emergent Occasions (New York: Vintage,1997). Read the full meditation
2. Richard Mouw; "Why the Evangelical Church Needs the Liberal Church," Sojourners, February 2004.
Copyright ©2005 by Michael Battle. Excerpt used with permission from Morehouse Publishing.



Help support explorefaith.org. when you purchase PRACTICING RECONCILIATION or any other item from Church Publishing, Inc., our Partner in Ministry.
Also available at amazon.com.