A Guide to Spiritual Practice
A CREDO Resource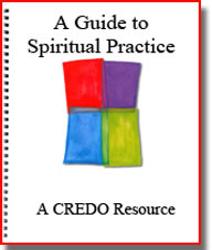 Written by CREDO faculty members Renée Miller and Brian Taylor, the reflections in this guide introduce and explain a range of spiritual practices and disciplines—from Centering Prayer and Spiritual Writing to other manners of being that include music, art, and even the mindfulness of movie-going.
As Brian Taylor explains in the introduction, "spirituality is how we are in relationship to God, to other people and the world around us, and to ourselves. [It is] the process of staying engaged in these relationships ..."
explorefaith visitors are always keenly interested in enhancing their current spiritual practices and learning new disciplines that nurture their relationship with the Holy. The CREDO resource, A Guide to Spiritual Practice, offers exactly the type of material many explorefaith visitors want. 
As an introduction to the guide, we offer below some beginning chapters from A Guide to Spiritual Practice, plus, a short preview of each chapter to give you a little taste of each practice. 
For more about A Guide to Spiritual Practice, including pdfs of complete chapters, visit the CREDO website. 

Getting Started, excerpts from A Guide to Spiritual Practice

An Introduction to Spiritual Practice by Brian Taylor
This guide to spiritual practice offers a diverse and extensive view of spiritual discipline. But before diving in, perhaps it might be helpful to remember why we practice disciplines in the first place. After all, we can undertake religious activities for all sorts of reasons: to satisfy an inner critic who says "You're not spiritual enough"; to pursue emotional highs; or just to feel less stress. What is the context for spiritual discipline within the Christian life of faith?

Beginning a Spiritual Practice by Renee Miller
The following preparation process is a general and simple way to ready ourselves for practice. It may need to be modified or adapted to fit a particular practice, but the pattern lends itself to such personal adaptation. There are only five short steps, and each step may be lengthened or shortened as needed.

Spiritual Practices currently available on the CREDO Web site
MEDITATIVE PRACTICE

DISCURSIVE MEDITATION PRACTICE

MINISTRY PRACTICE

MEDIA PRACTICE

MIND PRACTICE