Homework Help from St. Benedict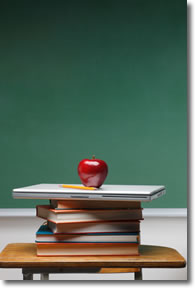 Since August 14, there has been one topic and one topic only in our house: homework.
Vocabulary drills, algebraic equations and lines of latitude blanket our evenings like an insidious London fog, choking off the air supply of the stuff that makes us a family: togetherness, entertainment and do-nothing time.
High school and middle school homework for two take a combined four and a half hours, with both parents on call until bedtime. By the time we have to start homework, our two sons have had all of an hour to unwind. I will spend the next three hours in a graceless ricochet between 6th grade science (kitchen table), freshman English (dining room), and what passes for dinner (cooktop).
Most disturbing of all is when I feel I'm in collusion with the schools for the theft of our family life. Nightly "reinforcement" (a euphemism for homework) puts me in the role of enforcer. Even if I feel the assignment is pointless, I must shepherd my son through it. I may not feel like doing it, but he'll get the zero. That can't be right.
Sara Bennett and Nancy Kalish certainly wouldn't think so. In their book The Case Against Homework, Bennett and Kalish report that staggering amounts of homework do not improve standardized test scores or college preparedness. Instead, excessive assignments negatively impact family life and children's well being.
According to Bennett and Kalish, students are doing half again as much homework as they did in 1981. An Associated Press-America Online poll put the national averages at 78 minutes per night in elementary grades and 99 minutes for middle school. Three hours of homework five nights a week is a routine expectation in high schools, and the real figure may come closer to four or five for students with challenges of one sort or another.
Bennett and Kalish also expose the standard homework advice as urban myth:
Plenty of books insist that if parents just established a good homework routine (a quiet spot to work, nearly organized school supplies, a tasty but healthful snack, and an adult available to answer their questions), kids would happily buckle down and do it. But it's not that simple. For many kids, homework is like having to do their taxes every night. How would we feel if we came home to hours of work from five different bosses?
Parents who have started science projects at 9:30 p.m. will cheer at the section titled "Cardboard, Glue and Pasta: The Homework Hall of Shame." (The all-time low on my list was a book report in the format of a cereal box. The teacher's instructions: if the book you read were a breakfast cereal, what would the box look like? )
A homily from some years back that made an impression on me was one in which the priest advised, "Every household needs at least one non-anxious presence." That was the position I aspired to when I elected not to return to full-time newspaper work after my boys were born. Given my nightly angst amid the homework avalanche, I doubt I would qualify as that even-tempered presence today.
The tension of the dance between being mom and homework cop brought me to an emotional bottom recently, on the night of the mandatory drug awareness meeting at my older son's high school. While they ate Pop-Tarts for dinner in the car, my sons heard me sob and swear all the way to the program. I knew it was neither becoming nor parental, but there was no stopping the tears. By the time we arrived at the auditorium, I had pulled myself together enough to sit listlessly through the film-cum-lecture.
At bedtime a good friend called. (I don't know about you, but as soon as I hear the voice of someone who's sympathetic, I can tune up all over again.) In her phone call was the best argument I have yet heard for getting in balance about the homework issue. "You don't want them to think they can't come to you because you'll find it too upsetting if they have a problem."
It had not occurred to me that my own sense of overload might be sending them a signal to shut down. Suppose they need help but hesitate to ask because it might set me off?
With the new pair of lenses my friend gave me, I went about the work of reviving the non-anxious presence.
The Serenity Prayer reminds me to accept things I cannot change, like the amount of work that comes in every night. It also reminds me that it takes courage to change the things I can, including my own attitude. How much of my resistance to my sons' work is a reaction to forces—or other adults—I can't control in my own life?
One of the bits of ephemera on my bulletin board is a dog-eared Christmas card. It says,
Do not fear what may happen tomorrow. The same loving Father who cares for you today will care for you tomorrow and every day. Be at peace, then, and put aside all anxious thoughts and imaginings. —St. Francis de Sales.
I have moved these words of a 17th century bishop from the corkboard to the dashboard.
I've also made some other changes. I've decided to forego all mention of homework until it's actually time to do it. Within seconds of picking them up at the end of the day, I used to ask my sons how much work they had. All it accomplished was to extinguish any fleeting elation they might have at being out of school. (Truth be told, their estimates were unreliable more often than not. "You told me you could do it in half an hour!" Voilá, a conflict is born.)
Second, I'm going to limit how much I look at "Powerschool" and other such online progress reports to once a week. Monitoring the dailies keeps me anxiously focused on what's missing and what could have been neater, timelier, more accurate and so on.
Lastly, I'm throwing out somebody else's rulebook for my family's mental health. The non-anxious presence (when I can locate her) is drawn to the Benedictine rule, the topic of a Sunday school class last year. The Benedictine rule suggests spiritual fitness results from a balance of work, study and leisure.
"All must be given its due, but only its due. There should be something of everything and not too much of anything," writes Sister Joan Chittister in Wisdom Distilled from the Daily.

In the 6th Century, Benedict introduced the idea that all things—eating, drinking, sleeping, reading, working and praying—should be done in moderation and in community. The religious life until that time had been practiced in solitude by hermits living alone in the desert to seek God. Benedict's genius, according to the Online Guide to Saint Benedict of Nursia, was "to understand that each person's rough edges . . . are best confronted by living side by side with other flawed human beings whose faults and failings are only too obvious. . . .He understood that the key to spiritual progress lies in constantly making the effort to see the Christ in each person - no matter how irritating or tiresome."
That, I think , is the real work of the home.

Copyright © 2007 Jill Piper.