The Gift of Advent
My parents (who were not particularly religious) did give their children the gift of Advent. For one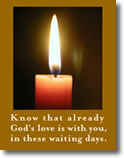 thing, the adults in our household never decorated the tree until after we'd gone to bed on Christmas Eve—a tradition I carried on with my own children until they were old enough to help trim the tree themselves on the day before Christmas. But we had Advent calendars with tiny doors to open each day with scripture passages describing the journey toward Bethlehem. And the Advent wreath increased in light as the weeks past and we lit one, two, three and then four candles.
I loved the sense of waiting, preparing, anticipation, the mounting excitement leading to the thrill of a glittering Christmas Morning! As I matured, I learned to treasure this month-long season of preparing my heart to give Him room, as we sing in the Christmas carol. And I've observed that the spiritual depth I know in Easter and Christmas seem directly proportional to the inner observance I allow myself in Lent and Advent.
Another Advent activity I loved as a child, and love even more now, involves preparing the Christmas crèche: a scene of flat gray stones over gray fabric, lichen, pine cones, a little Spanish moss hanging from the cliffs, shepherds above, townspeople below, various travelers on the rocky steps, and a solitary cave in the middle. 
Mary and Joseph arrive on Christmas Eve, and after we get home from midnight mass, we sing "Silent Night" and put the baby (living in the covered sugar bowl through Advent) in the crib. The Magi continue making their way across the dining room, across shelves amongst the glassware, to the window sill to the mantle, and finally arrive on Epiphany Day also with song ("We Three Kings") after we eat our Epiphany cake.
I'm grateful to my parents for giving us Advent, for not caving into the culture of anxious decorating before the holy day. This practice set the pattern of my soul's awakening to divine mystery in the darkness of waiting.
Copyright ©2010 Suzanne Guthrie.