Advent Then and Now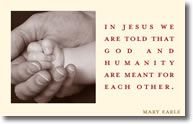 My earliest recollections of Advent and Christmas date back to age four or five. During the weeks preceding Christmas, my sister, Mary and I would act out the Nativity story in our backyard.

Mary would come home from school (she is two years older) and would tell me the "baby Jesus" stories she had learned from the nuns.  Then we would begin rehearsing. Or rather, Mary would begin directing the play where I would be Joseph and she would be Mary. The tricycle was transformed into a donkey for Mary and the backyard became the dusty streets of Bethlehem, as I led her from "inn" to "inn". My sister had a flair for the dramatic and quite enjoyed playing her role, especially when it came to riding while I pushed the "donkey" to the old mesquite tree that transformed into the stable.

Through all these years, Mary and I have remained very close, although as we have grown I have become her "big brother" and she is the "little sister" I never had. There has not been a Christmas we have not reminisced about our Nativity story.

For me, this Advent will be the most precious one since those young years. My sister has advanced stage-four liver disease. I do not know what next year or next Advent will bring. But I will always be her "Joseph" and she will always be my "Mary."   

As I begin my Advent devotion, I give God thanks for my sister and our relationship. For just as Advent is the preparation for the coming of the Christ, what Mary gave me in those Christmas rehearsals was a Baby Jesus made flesh and real for a five year old. That Christ Child has been the gift of a lifetime from my sister.
Copyright © 2010 Paul Pineda.