From Holidays to Holy Days
A Benedictine Walk through Advent
It seems ironic that in the days before Christmas, when our souls yearn to sing with the angels, our time is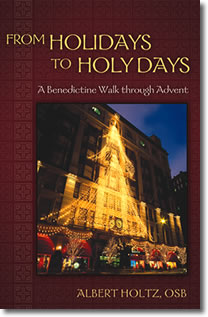 consumed by a frenzy of preparation. We have gifts to buy and parties to attend and meals to prepare, or, if these are not on our agenda, we sometimes feel as if Christmas is not what it should be.

Benedictine monk Albert Holtz wondered how Christians could hold onto the religious meaning of Christmas in a time of such busyness and stress. In walks around his abbey in the city of Newark, he observed the realities of life during the holiday season, and it occurred to him:  Since Benedict taught that God is everywhere and Christ is in all people, he should be able to find spiritual insights in the holiday scenes he saw on his urban wanderings.

This Advent season, as we wait for the coming of Christ, explorefaith presents daily practices drawn from Holtz's book From Holidays to Holy Days: A Benedictine Walk through Advent. Each day from Advent Sunday until January 1, a new reflection and scripture reading will be available, inviting the reader to walk beside Holtz and share in his thoughts as he watches the city prepare for and celebrate the holidays. It is Holtz's hope, and ours as well, that these daily offerings will help you awaken to the sacred that surrounds you, and during this time of hope and expectation, find the holy in your holidays.

From Holidays to Holy Days: A Benedictine Walk through Advent by Albert Holtz, O.S.B. Copyright ©2008 by Albert Holtz, O.S.B. Used with permission from Morehouse Publishing, an imprint of Church Publishing Inc.
Help explorefaith when you purchase FROM HOLIDAYS TO HOLY DAYS from Church Publishing Incorporated, a Partner in Ministry with explorefaith.
This book is also available at amazon.com.
Click on the number corresponding to each day of Advent. Advent begins Sunday, November 28. 
View December 25 - January 1.