The Sacrificial Faith of Simone Weil
1909-1943
Philosopher, Social and Political Activist,
Resistance Fighter, Writer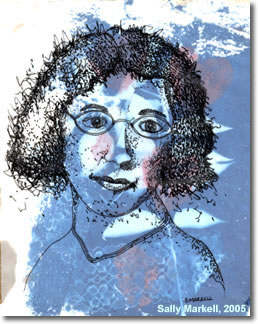 Indeed, Weil wanted nothing so much as to lose her self altogether. "May God grant that I become nothing," she wrote in a notebook entry that would later be included in Gravity and Grace. "We must become nothing, we must go down to the vegetative level; it is then that God becomes bread."
An unlikely candidate for sainthood by anyone's standards, Simone Weil was paradox embodied: she considered herself a Christian—a Catholic, to be more precise—yet she came from a secular Jewish home and was never baptized; she was a pacifist but fought in the Spanish Civil War; she was a brilliant intellectual known for her anti-intellectualism, a member of the bourgeoisie who worked on a French assembly line for a year, a person who loved life and yet longed for—some would say hastened—her own death.
Born in Paris in 1909, Simone Weil was "peculiar," to use biographer David McLellan's term, almost from birth. At the age of three, for example, she supposedly refused a cousin's gift of an expensive ring by saying, "I do not like luxury." And just two years later, with the outbreak of the war in 1914, she gave up sugar and other hard-to-find foods as an act of solidarity with the soldiers.
As Weil would later admit, her belief in the value of sacrifice was shaped in great part by a story she heard as a child. Sitting at the bedside of her three-and-a-half-year old daughter, who was in the hospital recovering from surgery for appendicitis, Selma Weil entertained Simone with the tale "Marie in gold and Marie in tar." As Weil friend and biographer Simone Pétrement explains,
The heroine of this fairy tale, who was sent by her stepmother into the forest, reaches a house where she is asked whether she wants to enter by the door in gold or the door in tar. "For me," she replies, "tar is quite good enough." This was the right answer and a shower of gold fell on her. When her stepmother saw her bring back gold, she then sent her own daughter into the forest. But when asked the same question, her daughter chose the golden door and was deluged with tar.
For Weil, "tar"—whether in the form of physical suffering or intellectual obscurity—was always "quite good enough."
A precocious child who was memorizing passages from Cyrano de Bergerac at the age of five and calling herself a Bolshevik by age ten, Simone Weil nevertheless saw her own abilities as mediocre compared to those of her mathematically gifted brother, André, who was older by almost three years. "The exceptional gifts of my brother, who had a childhood and youth comparable to those of Pascal, brought my own inferiority home to me," she wrote in a letter to Father Perrin shortly before leaving France in 1942. "I did not mind having no visible successes, but what did grieve me was the idea of being excluded from that transcendent kingdom to which only the truly great have access and wherein truth abides."
This lack of self-esteem notwithstanding, Weil was a brilliant student of philosophy, becoming an academic legend even before completing her work at the École Normale Supérieure in 1931. It was also during her years at the university that Weil became politically active, particularly on issues of peace and economic justice. So intense was her commitment, in fact, that many of her classmates found her "extremely off-putting." As an illustration, David McLellan cites the following comment from a fellow student: "We tried to avoid her in the corridors because of the blunt way she had of confronting you with your responsibilities by asking for your signature on a petition …or a contribution for some trade union strike fund." Though remembered by many for her humor and kindness, Simone Weil was nonetheless seen as a misfit—socially inept, physically awkward, and given to a style of dress that confirmed this negative image.
Following her graduation, Weil worked sporadically as a teacher of philosophy at a series of girls' lycées. Her career was short-lived, however, not only because of her unorthodox—and largely unsuccessful—teaching methods, but also because of her passion for workers' rights; between 1933-1937, she took an extended leave of absence, first to experience life as a factory worker and then to join a group of anarchists fighting in the Spanish Civil War. In Aragon, too, her ungainliness quickly became an issue. Because of her poor marksmanship, she was assigned to the camp cook, with whom she served until accidentally stepping into a pot of hot grease and being sent away from the front for treatment.
It was during the following year, which she spent on sick leave, that Weil traveled to Italy, a country whose art and music brought her great joy. Spiritually, too, she was feeling a new sense of life. As she put it to Father Perrin following her visit to a chapel in Assisi, "[S]omething stronger than I has compelled me for the first time in my life to go down on my knees." Equally powerful was her chance meeting in Solesmes, France, with a young English Catholic who introduced her to 17th century metaphysical poetry, most specifically George Herbert's poem "Love." Memorizing the lines, she would recite them again and again as a prayer. "It was during one of these recitations," she later wrote to Perrin, "that, as I told you, Christ himself came down and took possession of me."
Meanwhile, Weil's health, fragile since childhood, continued to deteriorate. Years of self-deprivation, her chief means of identifying with the poor, had left her weak and increasingly vulnerable to illness. Rather than lamenting her condition, however, she considered her suffering to be a necessary step in her quest for truth. By renouncing the "I," she believed, she was making room in her soul for God, the ultimate truth.
With the German occupation of France, and the mounting pressure on the Jews, Weil and her family immigrated to New York in 1942. As Leslie Fiedler put it, though, "America proved intolerable to her; simply to be in so secure a land was, no matter how one tried to live, to enjoy what most men could not attain." Longing to serve with the French Resistance, Weil finally succeeded in being assigned to the office of the Free French in London, where once again she showed her compassion for the suffering of Europe by refusing to eat. Collapsing in April 1943, Weil was diagnosed with tuberculosis and sent to a sanatorium to recuperate. Though doctors were confident that she could recover, Weil ignored their recommendations of food and rest, essentially dying of starvation that August.
In the last years of her life in particular, Simone Weil increasingly found comfort in a God whom she described as "absent," and in a consolation that wore the guise of suffering. "God gave me being in order that I should give it back to him," she wrote in Gravity and Grace. "[H]e who gives us our being loves in us the acceptance of not being." Like John the Baptist before her, Weil believed that "[h]e must increase, but I must decrease."
Spiritual pilgrim though she was, Simone Weil remained outside the church to the end. Even in her attraction to Catholicism, she could not limit God to any dogma or creed; the very certainty of faith was for her a luxury to be shunned. For Weil, it was enough to gaze toward the empty place left by a God who was always just out of sight. "Attention animated by desire is the whole foundation of religious practices," she wrote in "Forms of the Implicit Love of God." "[L]ooking is what saves us." Not possessing, not consuming, not controlling, but simply watching and waiting, expecting nothing, surrendering all.
What may be most admirable—and challenging—about Simone Weil is the ability she had to forego many of the assurances most of us demand. Content to live without certainty, she sought God in the darkness of faith, claiming nothing for herself. To Weil, what mattered was not finding or even seeking God, but simply waiting with open eyes, "looking" into the void.
I have no doubt that were she alive today, Simone Weil would be considered emotionally disturbed. Highly gifted, yet insecure, she often acted compulsively—and seldom in her own best interest. Rather than enjoying the life of privilege to which she was born, she chose to live in the midst of poverty and war; instead of fleeing from danger, she let herself be drawn into its heart, into a place where she could know the suffering wrought by injustice, violence, and hate.
Was she anorexic? By today's standards, that would seem to be the case. Did she hasten her own death? To think otherwise would be to discount the facts. Psychologically healthy or not, however, Simone Weil also knew in some organic way that to desire God without the safety of dogma was to be possessed by God in return. Suffering for its own sake was debasing and cruel, but suffering with others was a means of encountering the divine.
Reflecting on the complex journey of Simone Weil, we are called to examine our own spiritual paths:
• Where do I find paradox or contradiction in the things I believe and do?

• In what ways do I look to religious practice as a means of avoiding God?

• Does redemptive suffering have a place in my life? If so, where? How do acts of solidarity with the sick, the poor, and the friendless make a difference in the world?

• How does God use my weaknesses and shortcomings as a means of grace in the world?
Copyright ©2005 Susan Hanson.
Portrait of Simone Weil by Sally Markell.